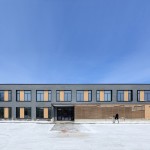 The Iowa Architectural Foundation has honored two outstanding nominees, Shelter House (Iowa City) and Drake University (Des Moines), with Community Enhancement through Architecture and Design Awards. This award recognizes those individuals, organizations, agencies, or communities, outside the architectural profession, who have demonstrated consistent and effective leadership, vision, and support for architecture, or have repeatedly championed the cause of architecture or acted as a benefactor of architecture and urban design.
Founded in 1983, Shelter House today operates a 70-bed emergency shelter, in addition to four homes and a housing-first complex through which they provide over 60 permanent supportive housing units. Amid its growth over the last four decades, Shelter House has consistently incorporated high standards of design into its model for combating homelessness, demonstrating how thoughtful design can support day-to-day social services as well as the dignity and health of tenants. In the words of juror Cheryl Peterson (AIA – Technical Preservation Specialist), "Shelter House has grown to meet the challenges of homelessness in their community, and their emphasis on well-designed architecture is an expression of the respect they hold for the people they serve." The shelters, the jury agreed, offered residents "not just a house, but a home."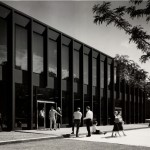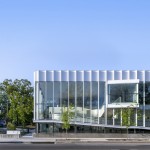 Drake University earned the award due to its past and ongoing investment in exceptional campus architecture. The university has undertaken extensive efforts to restore and preserve its modern masterpieces, now over 50-60 years old. More recently, Drake added the Tom and Ruth Harkin Center, which sets a new standard for universal and inclusive design. IAF's awards jury was impressed with Drake's old and new architecture alike. Said Paul Mankins, FAIA – Professor of Practice, Iowa State University, the University has "one of the preeminent collections of Mid-Century Modern Architecture in the nation. They clearly understand their unique collection and continue to preserve and extend their commitment to architecture. This is truly commendable and needs to be recognized."
The selection process included a statewide call for entries and selection by a jury of three, including architects Cheryl Peterson, AIA – Technical Preservation Specialist, State Historic Preservation Office of Iowa; Robert Whitehead, AIA, Associate Professor, Iowa State University; and Paul Mankins, FAIA – Professor of Practice, Iowa State University. The awards committee was chaired by IAF Past Chair, Jeff Shaffer, AIA, BNIM.
Photo credits: "Cross Park Place," Cameron Campbell, Integrated Studios; "Meredith Hall," Drake University Archives & Special Collections; "Harkin Institute," Kelly Callewaert