Celebrate 35 Years of the Iowa Architectural Foundation! Encore Gala Tickets on Sale Now
On Friday, May 3rd, join the Iowa Architectural Foundation as it celebrates 35 years of promoting and recognizing the exemplary architecture in our state. Held in the Des Moines Heritage Center in the heart of the historic East Village, this lively event will include cocktails, food stations, a specially commissioned art installation, and a program celebrating IAF's achievements and mission to inspire appreciation of architecture in all Iowans. Guests are invited to dine, mingle, dance and pose for photos against designer backdrops. Proceeds will benefit the Iowa Architectural Foundation. More information and tickets here.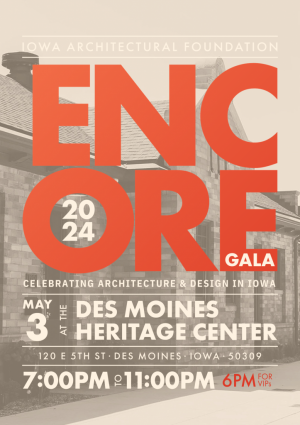 Event Timeline:
6-7 p.m. | VIP Reception with Artists and Award Winners
7-8 p.m. | Cocktails and Food Stations
8-9 p.m. | IAF Retrospective Program
9-11 p.m. | Dancing and Mingling
Sponsorship opportunities available
It takes the efforts and contributions of many to keep the IAF active and effective as a key role player in advancing the cause of good design. We kindly invite your financial support to ensure an encore performance of all IAF has achieved since 1989.
Visit our event website or review our 2024 IAF Gala Sponsorship Packet for more information.