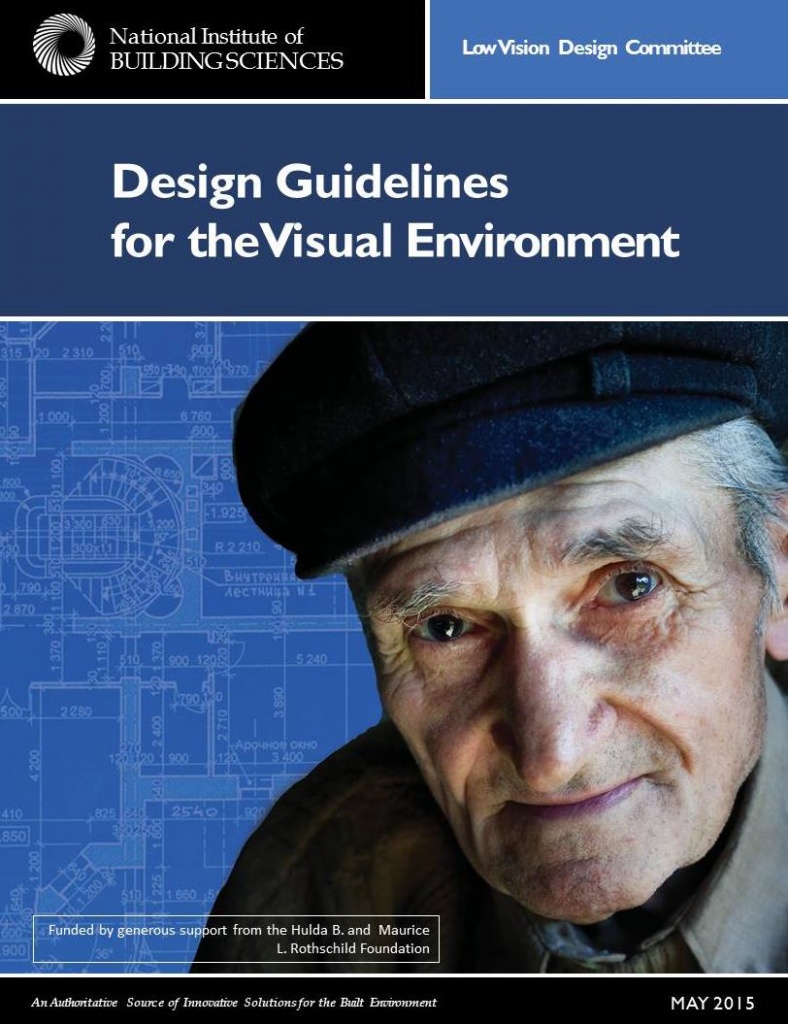 The Low Vision Design Committee (LVDC) of the NATIONAL INSTITUTE OF BUILDING SCIENCES has published a guide to assist design professionals to accommodate the growing segment of the population who are afflicted with the spectrum of vision disorders contributing to Low Vision. 
The Design Guidelines for the Visual Environment, funded by generous support of the Rothschild Foundation and the McClung Lighting Research Foundation, provides architects, interior designers, engineers, lighting designers and the general public the tools to evaluate the effects of light in building and environment design. 
Items covered
Contrast between objects and their background,

Contrast between vertical and horizontal elements, especially on stairs and walkways,

Surface characteristics, including value, sheen, texture and pattern.
Taking these parameters into account, design teams can evaluate a design's performance and its energy and economic consequences can be predicted more accurately.  Any lack of clarity in visual cues or any defect in our interpretation (or comprehension) of the environment can reduce our abilities to wayfind and navigate the environment safely and to understand our surroundings.
Lighting is the key
Of course, lighting design is key: using natural and electric lighting to illuminate objects in a space while minimizing negative effects such as glare and low contrast is beneficial to all sighted persons.  The use of luminance, color and value contrast to improve visual clarity of the environment is especially helpful to persons with low vision.  Glare, improper low contrast, and low illuminance levels are three of the most common visual impediments in the built environment.
The use of luminance, color and value contrast to improve visual clarity of the environment is especially helpful to persons with low vision (those with vision that cannot be corrected to the minimum of 20/70).
Purpose of the Guidelines
These guidelines offer both clinicians and those accountable for building performance the means to achieve these values, based on empirical data from published laboratory and field studies, recommended design practices from technical societies, as well as from published post-occupancy evaluations of buildings occupied by both low vision and normally sighted persons.  It is hoped that this guide will also serve as a roadmap for future research and feedback in order to create a more robust universe of empirical data to guide the regulatory and design communities.
Scope of the Guideline
This design guideline is intended for use in new construction and alterations of public accommodations and commercial facilities required to be accessible by the Americans with Disabilities Act of 1990 (ADA) and the Architectural Barriers Act (ABA) of 1968 (as amended), which applies to buildings used by the public. 
This guideline also addresses planning and design of a building and facility site, including all features used to access the building or facility such as walkways and pathways, stairs and ramps; interior spaces, including finish materials, and fixed and moveable furniture; and lighting design, including the use of daylighting and electrical lighting. 
It is also of use to home designers and builders of senior housing facilities.