Eat. Drink. Architecture. Des Moines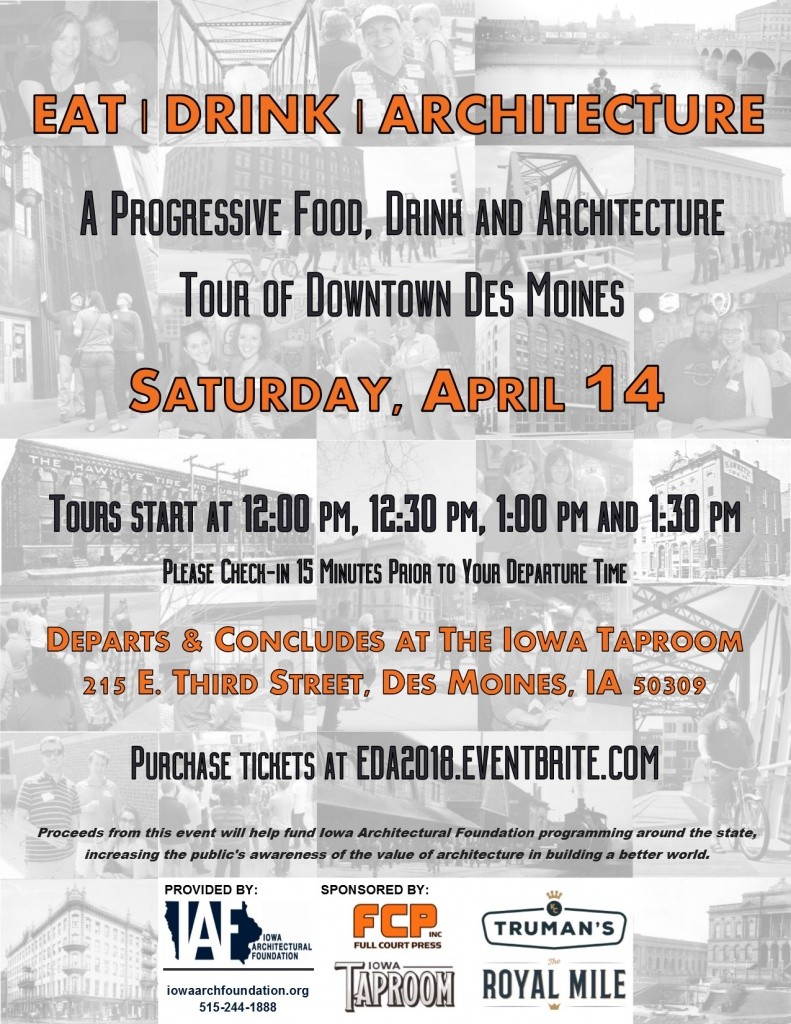 IAF's progressive food, drink and architecture tour with something new!
This year's event will be held on Saturday, April 14th, 2018, beginning at the Iowa Taproom.  The next stop is Truman's, a brand new Kansas City style pizza tavern where you are sure to receive the Royal treatment and see KC sports memorabilia!  After Truman's you will continue your architectural tour to the Royal Mile and then back to the Iowa Taproom.
NEW FOR 2018: You spoke and we listened! Participants will have 4 separate starting times, so no delays in departure.  Departure times will be at 12:00 pm, 12:30 pm, 1:00 pm or 1:30 pm. Please select your tour time below when you register on Eventbrite.
Each stop will feature appetizers, beer samples, and conversation with the tour volunteers. Along the tour route, you'll have fun socializing, while enjoying a guided walking tour of the architecture in downtown Des Moines. Tickets are $40 and must be purchased in advance.  Purchase now as this event always sells out!
Eat.Drink.Architecture is sponsored by the Iowa Architectural Foundation and Full Court Press. Thanks to Jeff Bruning, FCP, all proceeds will help fund Iowa Architectural Foundation programming around the state, increasing the public's awareness of the value of architecture in building a better world. 

Event Details:
Eat.Drink.Architecture: An Iowa Architectural Foundation Fundraiser
Saturday, April 14, 2018
Rain or Shine. Event will last approximately 2 1/2 to 3 hours. 
Route begins at the Iowa Taproom, 215 East 3rd Street, Des Moines
Tickets are $40.00 each and must be purchased in advance via Eventbrite. Tickets are limited, so order quickly!