2017 Fall Courses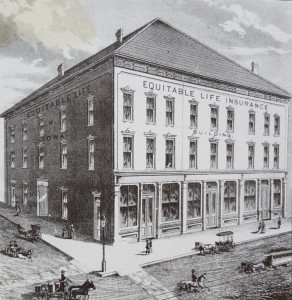 LOST DES MOINES ARCHITECTURE                                           1 session                              Cost: $20
Prior to the turn of the previous century, the Des Moines riverfront hosted a number of businesses, industries, residences, and even a military Fort. Most of these have been torn down and only photos and maps remain for our consideration. Participants will learn what life was like downtown prior to 1900, what few buildings still exist prior to that, and learn more about the buildings that were "lost" to progress and the City Beautiful Movement.
Instructors: Scotney Fenton, AIA and Steve Stimmel, AIA
Date: Tuesday, October 10th
Time: 7:00-8:30 pm
ARCHITECTURE IN DOWNTOWN DES MOINES                    3 sessions                     Cost: $54
Longtime residents and newcomers alike will want to attend this class on downtown Des Moines' architectural treasure! We will begin with an overview of architectural trends which shaped downtown over the past 130 years. The third class will be a walking tour on the skywalk. Sites include the building by "Make no little plans" Daniel Burnham, Hotel Row, great examples of Art Deco and more!
Instructors: Tina Rhodes, Assoc. AIA and Tom Wollan, AIA
Dates: Tuesday, October 17th, Tuesday October 24th, and Saturday, October 28th.
Time: Classes 7:00 – 8:30 pm Tour 9:30 – 11:00 am
Note: All classes will meet at the Iowa Center for Architecture located in Capital Square, 400 Locust St. #100, Des Moines, IA 50309