Class: Mexican Architecture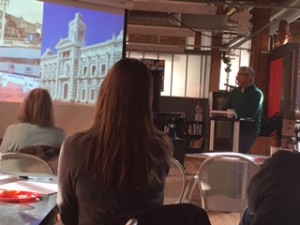 Mexican Architecture – Three session class.
Dates: This class is finished for the year (7/5/17) Let us know if you have interest when it is offered again.
Where: Iowa Center for Architecture
400 Locust, Suite 100
Des Moines, IA 50309
Who is our neighbor to the south? Join us for an exciting journey through the architectural history of Mexico, one of the Americas' oldest and richest cultures. We will break it down into three major periods:
Session 1 – Pre-Hispanic Architecture – We'll explore the ancient cultures of Mexico, like the Aztecs and Mayas, and learn about their great planning and urban design feats.
Session 2 – The New Spain (Colonial Period) – Learn of the influence of the Spanish and the French in vernacular and religious architecture.
Session 3 – The Modernists – Similar to movements across the world, Mexico was reinventing itself at the dawn of the 20th century and the end of the Mexican Revolution.
Instructor: Pedro Garcia is a project manager in the Sports Studio at RDG Planning and Design in Des Moines. He has been influenced by some of Mexico's best architects and designers.
Cost: $54
Register: now open with DMPS Community Ed, look in special interest.