Dream – Design – Build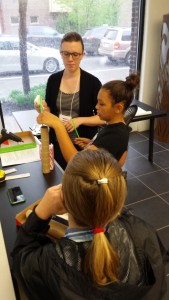 Twenty-four Girl Scouts from Central Iowa spent a spring morning designing and building dream model houses and landscaped yards at a hands-on STEM workshop hosted by Iowa Architectural Foundation Architecture in the Schools (AIS) Committee. IAF Board chair, Michelle Sacco, of RDG, developed the dynamic "Dream, Design, Build" curriculum for the Girls Scouts of Central Iowa, which was facilitated by metro Des Moines women design professionals including architects, landscape architects, and engineers.
The 4th-6th grade girls divided into four small groups and rotated throughout the RDG studio in downtown Des Moines. Each group started the morning by brainstorming and sketching ideas using bubble diagrams while learning about designing and building on a 1/4-inch scale. The girls measured their height with scale rulers so they could model themselves to scale out of clay. The groups then rotated to build their models out of cardboard containers, tongue depressors, pipe cleaners, clay, and construction paper. Design professionals assisted with questions, building techniques, and hot glue.
The girls were so captivated by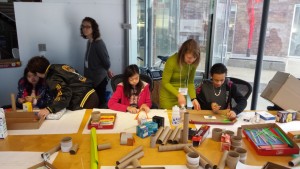 designing that when the rotation ended, they expressed disappointment that they had to stop. The morning ended with a lively question and answer session where each girl shared her model. Each design professional then shared about her career and how she became interested in the design field. Several parents and Girl Scout volunteers attended, and praised the event as an empowering STEM activity.
~ Jennifer James, MAHP, Architectural Historian
The Architecture in Schools Committee wishes to thank all of those who were responsible for helping make this event possible!
Becky Hansel, INVISION Architecture
*Eli Goll, OPN Architects
Gerry Wilwerding, RDG Planning & Design
*Gina Verdoorn, Sporer & Flanagan
Holly Pohlmeier, INVISION Architecture
*Jeanne Huntsman, The Weidt Group
*Jen James, Jennifer James Communications
Kate Rutledge, RDG Planning & Design
Laura Kessel, RDG Planning & Design
Mallory Rousch, INVISION Architecture
*Megan Drake, Shiffler Associates Architects
*Michelle Sacco, RDG Planning & Design
Naura Godar, RDG Planning & Design
Stormy Shanks, KJWW Engineering Consultants
*Tina Rhodes, GENESIS Architectural Design
*Denotes a member of the Iowa Architectural Foundation.