Defining Modern: Masters of Mid-Century Furniture & Design
Defining Modern: Masters of Mid-Century Furniture & Design
Saturday, April 13, 2019
Meredith Hall, Drake University
9 – 11:30 AM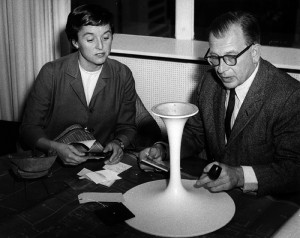 Iowa Architectural Foundation (IAF) is collaborating with Knoll, Saxton and Drake University on a signature educational event that you won't want to miss!  Iowa is home to many architectural gems of the Mid-Century Modern design movement, including several on the Drake University campus. IAF's Architecture Month event will be held in Meredith Hall, designed by famed architect Mies van der Rohe in 1965. Have your morning coffee while you enjoy two richly-illustrated presentations, accompanied by a display of original Knoll furniture classics by master designers including Florence Knoll, Eero Saarinen, Harry Bertoia, Mies van der Rohe and Marcel Breuer. Afterwards, take part in guided architectural walking tours of Drake's campus, focusing on the Modernist legacy.
MASTERS OF MID-CENTURY FURNITURE & DESIGN
Yvonne Baker, KnollStudio, with material from Knoll archives 
Learn more about the master architects and craftspeople involved in the Bauhaus design movement in Germany, who brought the international Modernist concepts and influence to the U.S. around the time of WWII, including Florence and Hans Knoll, Eliel and Eero Saarinen, and Mies van der Rohe. These design greats defined modern through the design of now iconic pieces of classic mid-century furniture, as well as the buildings that marked the modern movement across the US.
A native of Dallas, Texas, Yvonne Baker has spent 23 years in the Architecture and Design industry with Herman Miller and currently, with Knoll, Inc.  A BS in Interior Design and in Marketing, she resides in Kansas City, Missouri and is responsible for a four-state territory with KnollStudio.   A member of IIDA and IFMA, Yvonne's project collaborations range from corporate, higher education, sporting venues and healthcare facilities to hospitality and residential.    
MODERN BY DESIGN: DRAKE UNIVERSITY'S CAMPUS
Maura Lyons, PhD, Drake University Professor of Art History
An overview of the historical context and mid-century buildings of Drake's campus, designed by Mies van der Rohe, Eliel and Eero Saarinen and Harry and Ben Weese.
Maura Lyons has co-curated two exhibitions at Drake's Anderson Gallery with students, combining her research and teaching interests. In 2017 she curated Mies|Weese at Drake: Where We Live and Work, which featured previously unseen work by modernist architects Mies van der Rohe and Harry and Ben Weese, designers of five buildings on Drake's campus. In 2008, she curated Building a Modern Campus: Eliel and Eero Saarinen at Drake University, which traced the architectural, institutional, and cultural legacies of the work of the acclaimed architects Eliel and Eero Saarinen on campus during the late 1940s and 1950s.
Cost: $25